At every phase of product development, Electrolux Professional has customers' demands in mind. This is how lagoon® Advanced Care, as a product of knowledge and expertise in professional fabric care, is created. Developed over 20 years, it is the first wet-cleaning system that enables garments to go from dry to dry in 1 hour.
Fast, easy and green
Dry cleaning was once the only system for cleaning certain clothes and furnishing fabrics. Now, wet-cleaning can replace dry cleaning for all fabrics. lagoon® Advanced Care is the perfect alternative to traditional cleaning methods that include dangerous solvents and harsh chemicals. Environmental awareness and desire for better results in terms of smell, look and feel are among the main reasons for the choice. More and more customers expect cleaning to be eco-friendly and lagoon® is just as fast and effective without the risk.
The use of water enables the fibres to open up and release stains inside textiles, restoring the brightness of colours that are sometimes dulled by repeated dry cleaning. Silk, wools, cashmere, viscose, embroidery, sequins,…Fibres of every kind are refreshed and regenerated. From coats to wedding dresses, tuxedos to cocktail dresses, wool blankets to curtains: there's no limit.
Completely dry to the touch, no unwanted creases to remove, minimal finishing: garments are ready to be finished just out of the dryer with no hang-dry time needed. As the garments dry, the fabric surface smoothens.
Specific detergents and pre-spotting agents for the best results
A new generation of detergents is the perfect match with the new cleaning programs. They reduce the risk of inhalation, burns and allergies. Your personnel will be granted a healthier environment to work in and your customers will be welcomed by a pleasant smell of cleanliness. Also, the full range of pre-spotting agents is able to treat all stains, from tannin to grease, ink and waxes, for a spotless outcome.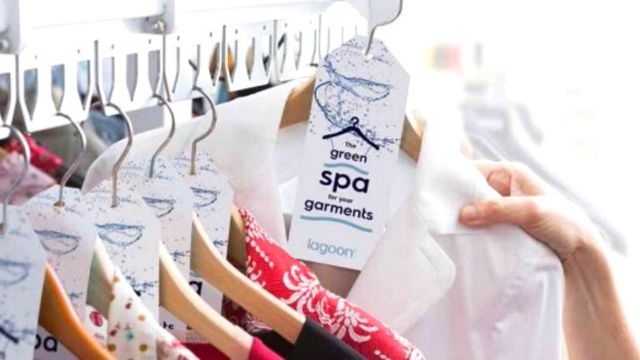 Profitable and sustainable business
People have always cleaned their garments, and they always will. This is the one of the most profitable and safe businesses, that will never cease to exist.
With lagoon® Advanced Care you can choose to be in line with the trends of the industry and to offer quality treatment to your customers' most precious and delicate garments. lagoon® uses biodegradable products that comply with international environmental standards. Therefore, you can open your business anywhere, without restriction and without causing a disturbance to your neighbours: shopping malls, town centres etc.
Our clients love lagoon®
Our clients have recognized lagoon® Advanced Care as the best solution for precious garments cleaning but also a great opportunity for generating income.
Katarina Arkulin and Ivica Tukarić opened something very new in the city of Dubrovnik – the first laundry which offers suits wet-cleaning as an alternative to classical procedures, named ITEX.
"I would also recommend lagoon® Advanced Care to everyone! We are very satisfied, and the clients' reactions are also great. They consider this to be an amazing story, something new and modern that the city of Dubrovnik was missing. They often say - 'This smells amazing, it's completely different in comparison to standard dry cleaning, you can sense there are no harsh chemicals here!' They give us their trust because they see this as a specific hygienic treatment that won't jeopardise the fabrics of their favourite garments. They can be totally carefree" says Mrs. Katarina.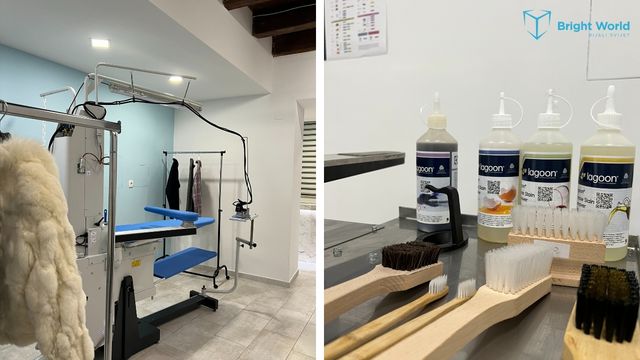 At the completely other end of the country, in Slavonia's Okučani, Lidija and Slavko Plužarić recognized the need for wet-cleaning business and opened a laundry named Tufna. In the 100 km area, there was no option for cleaning precious garments, which was especially problematic during holy sacraments and wedding season.
"The clients are thrilled with lagoon®! They say they love the freshness, smell and the way colours simply come alive. They like the fact the system is environmentally friendly and doesn't include solvents and harsh chemicals. We are very satisfied with Electrolux Professional detergents, which improve the results even more" says Mrs. Lidija and adds: "My personal favourite is the dryer! If you follow the instructions and use programs properly, you basically don't even need to iron – it comes out just perfect!"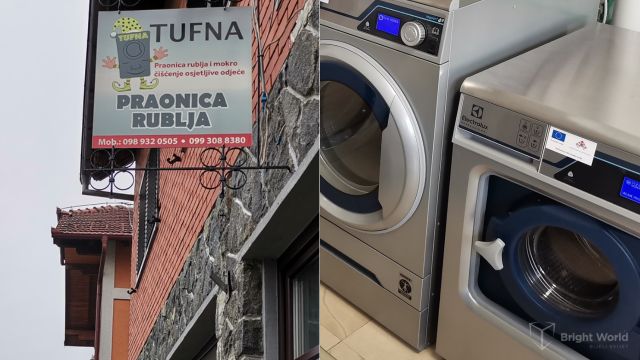 By choosing the lagoon® Advanced Care products you can start a new chapter of unique benefits and advantages for your business. Get inspired by our clients' stories and contact us!