After the successful laundry in Rijeka which we've written about, now it's time for the one on the island of Vir, and this one is the only one in existence there. But being the only one doesn't mean being lonely. In fact, it's stacked with clients. 
Demand is still high 
Igor Marić, the owner of the laundry Kotulica, says that he doesn't experience any decrease in earnings because of the pandemic. "Although we are only 2 years in business, we can compare this year to the last", he says, and adds that he has more work now than before. Taking into account the vulnerability of the hospitality sector because of the COVID-19 pandemic, laundry Kotulica from Vir is successfully resisting such trends. "Our clients are mostly from the Airbnb sector", says mister Marić, "the quality of laundry is to important for them to give up". And the quality of laundry is what they get with the professional laundry equipment.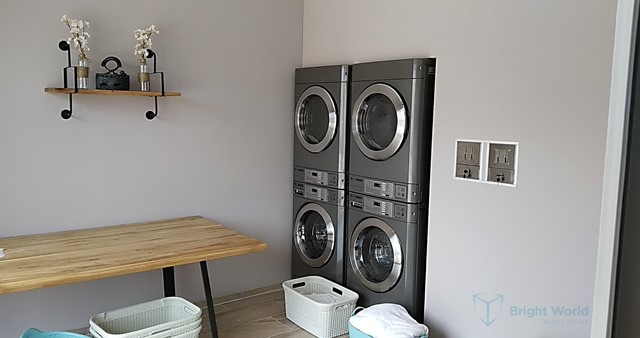 Quality as well as hygiene
LG professional washers and dryers make sure the result of washing and drying is the best as possible for the guests of businesses. Except for the quality of the washing and drying result, LG professional washers and dryers are designed to take care of hygiene, and mister Marić's clients from the hospitality industry are familiar with this. They can achieve this through their hygienic programs and new technology -Antibacterial coating keeps 99% of the bacteria away, and Wave force and Auto tub clean help to maintain hygiene by cleaning the washer's interior with their strong water waves. 
Besides, laundry Kotulica takes care of hygiene in other ways. "Although our laundry is small, our clients have to use disinfectants, and we also insist on people entering the laundry one at the time". says mister Marić. He ventilates laundry, and wears gloves and masks while handling it.
Don't give up
Although we are all aware of the seriousness of the COVID-19 crisis, we mustn't give up, because, as we can see, positive stories are all around us. And there is something about the positive attitude. "We are hoping for a productive winter and we hope this is all going to pass as soon as possible", adds mister Marić rather positively. Once. in the 16th century, a fortress Kaštelina located on Vir defended the island from Turks. Today, laundry Kotulica does the same thing there, but with viruses, and succeeds in that partly because of the attitude of its owner. 
So, why don't you adopt the same attitude and reach out to us if you want to open a laundry! As we can see, it can be done!