A student campus within the Youth & Lifelong Learning Institute in Athens in collaboration with Fartex and Bright World has opened a laundry, equipped with LG professional washing machines and dryers.
Due to specific conditions of project and public procurement requirements, it was important to unite needs of the tender, client, and end user. Winning this type of rigorous competition further emphasizes the versatility of LG commercial appliances.
Professional LG washing machines and dryers are ideal for campuses, dormitories, and similar institutions because they can be fully adapted to the needs of users, such as students, but also to the laundry owner. With their appearance and simple functions, they look alike as household appliances, that makes them easier to use, but they outshine them in performance.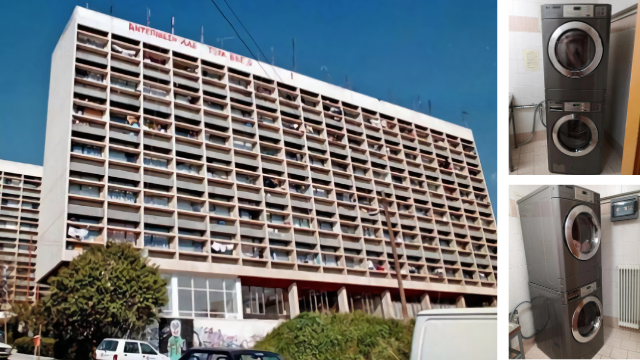 Student campus within the Youth & Lifelong Learning Institute in Athens
Benefits for end users
What is visible at first glance is large size of the drum. From 1 to 13 kg of laundry can be washed with one load (LG Giant C washing machine). If you put a smaller amount of laundry, the washing machine will adjust the amount of water and detergent itself and shorten the washing time.
Speed is another advantage of the commercial laundry appliance. Even the longest program is 2 to 3 times faster than in household appliances. Imagine being able to wash 10 kg of cotton laundry at home for 1.5 hours and dry in less than 1 hour. If we add to this that a professional washing machine is made to work whole working shift, the cost-effectiveness and savings are always on professional appliances side.
Since these appliances are used by many users, hygiene is imperative. Thanks to the hygienic design and special hygienic programs, such as Wave force and Auto tub clean, you can be sure of maximum cleanliness of the laundry and the appliance too.
Benefits for laundry owners
Regarding owner perspective, the advantage of professional appliances lies in their excellent adaptation to spaces that were not originally intended for laundry. This can be an unused room or storage or a corner of an existing room.
Also, the dryer can be placed on top of washing machine, which further saves space. They connect to single-phase electric power, so no special conditions are required, as is the case with industrial devices. All this makes them easy to install.
Maintenance is simple and doesn't take much time. At the end of the operating cycle, it is necessary to rinse the detergent drawer and wipe the door and the gasket to remove residual moisture and dirt.
Additional benefit- our knowledge and expertize
Even though you may be only thinking about laundry , let us know!  because in that case we can advise you on planning a laundry, we can make a draft of the laundry in the room, educate you on the use of appliances and detergents, as well as the current hygiene rules and instructions related to laundry hygiene.