In pursuit of a peaceful and relaxing vacation, numerous tourists will opt for villas or apartments within these luxury holiday homes. Over the last couple of years, this type of tourism is experiencing the most significant growth with foreign but also domestic guests. Tourists want to avoid restrictions that come with hotel accommodation and enjoy the flexibility and absolute freedom of their own routine.
About SIXL: Luxurious accommodation with home coziness
This tourist trend of luxurious accommodation with home coziness has been recognized by Mrs. Nataša Lojak and her husband. They run a successful apartment and villas rental business in two of the most touristic attractive Croatian destinations – Istria and Dalmatia.
"Our accommodation locations are completely peaceful and quiet, without crowds of people and nightclub noises. They take your breath away just with their looks – from crystal clear sea to magical Mediterranean landscapes. These are the places our guests get away from hectic everyday life and truly relax their souls. They are especially suitable for couples and families with children" Mrs. Nataša says.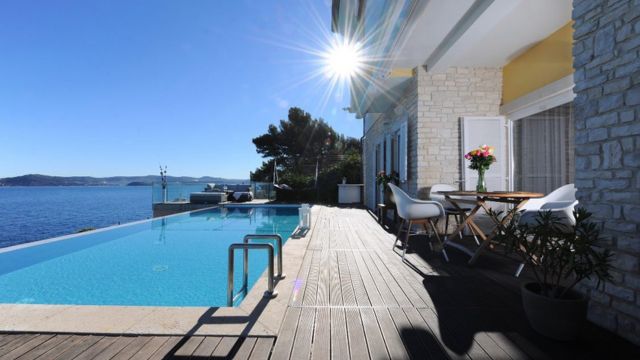 Villa Cablex III, Savudrija (source: facebook.com)
In Istrian Savudrija, Mrs. Nataša and her husband offer Cablex complex that consists of 3 luxury villas and combines premium accommodation and service with privacy and simplicity. For guests who may want a bit more dynamic content at some moment, the surroundings offer numerous tourist facilities, so this location combines the best of both worlds.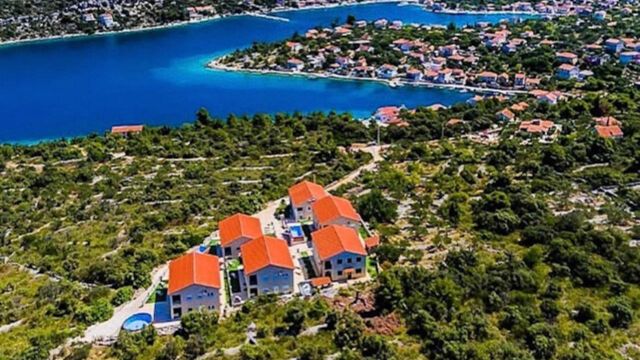 Olea Resort, Drvenik Veliki
A true oasis of peace their guests can find further South, on the Dalmatian Island of Drvenik Veli, known for its numerous beautiful sandy and pebble coves. Here they can enjoy a luxurious Olea Resort, that unites 4 holiday homes, which are consisted of 16 premium apartments in total.
Challenge: Search for laundry equipment that will follow premium service
"We're dedicated to our guest's complete comfort. Our mission is to provide them with only the best in our villas and apartments and that includes top hygiene. Swimming pool with sunbathing areas, jacuzzi, bathroom, kitchen, barbecue, dining room,… All of that also means plenty of towels, bed linen, dishcloths, tablecloths, etc. and that's why it was so important for us to find the best solution for doing the laundry" Mrs. Nataša says.
Solution: LG Professional - a logical choice
A solution presented itself very soon – at the HoReCa Adria fair in the city of Opatija.
"That was where we came across your Bright World as an exhibitor. We immediately liked everything about LG professional equipment – from design to functions. I was especially intrigued by the fact that we can do the laundry from approximately 3 apartments in only one cycle. We got the impression this would be a great solution for our demands and the intuition was right!" Mrs. Nataša recalls.
"From our encounter at the fair to equipment installation only two months have passed. It all went smoothly, without any obstacles! We allocated some of the equipment for Istria and some for Dalmatia, according to specific needs" she says.
Delivered products:
Delivered services:
Installation
Education for use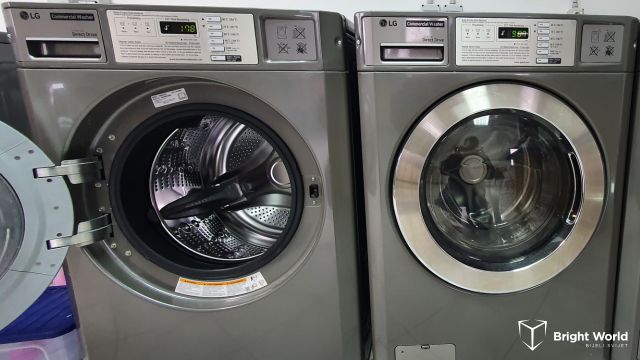 Results: Quick, practical and – efficient!
Mrs. Nataša does not hide her satisfaction with the equipment, but also with the complete service:
"We are especially thrilled with the LG Giant washing machine! It is very simple to use, and we can wash a lot of laundry at once. And it's so quiet while working! We are just more than satisfied!"
"It is very convenient for us to have our own laundry equipment at hand. As we take the sheets off, we take them straight to the laundry! It is particularly practical at isolated locations like the island of Drvenik Veli. I also must mention the savings in comparison to external laundry services" Mrs. Nataša adds and concludes:
"To all renters who are thinking about buying the laundry equipment, we would recommend your Bright World and LG professional equipment! According to our previous experiences, today it is very difficult to get everything that was promised in the beginning, no matter what you're purchasing. That's why we are very happy that in our collaboration everything went according to plan. We are also very satisfied with your technical support team, which is here for any questions. Just stay great as you are!" 
Top hygiene is one of the most important factors in providing premium tourist service. Ensure only the best for your luxury villas and apartments guests with LG Professional equipment and contact us!