Should you run your laundry services on your own?
Companies often outsource their laundry services to specialized operators; they do so in order to avoid organizational and monetary expenditures on a activities they consider less strategic, or too complex to be handled internally. Is outsourcing always a good idea? We can probably tell by analysing risks connected to externalizing laundry services and proposing a way to score the strategic value of such activity.
 Long term costs of outsourced laundry services
Long term cost: you should evaluate the volume of laundry you have to do. Outsourcing costs less, but only in the short run; in the long run it becomes a linear cost that takes away a rather fixed amount of revenue to be covered. This worsens if you consider that some laundry equipments have a very favourable ratio between buying costs and running costs, therefore the time span in which a buy solution gets more convenient shortens. When should you consider such issue? When your business is big enough to sustain a small laundry, and the ratio between laundry and revenues is rather fixed. E.G. an established, big cafeteria business where the more people you serve the more laundry you have to clean. In this case it may be convenient to set up an internal laundry facility, accurately choosing appliances
- Easy to understand and operate (ergonomic)
- With low running cost
- With a strong post sale service that helps avoiding unpredicted costs and forced stops
Risks on laundry services quality controls
Professional laundry services available on the market can for sure do their job in a reliable way; but some businesses need to go the extra mile. If your business is highly affected by the quality of cleaning, maybe you should think about internalizing laundry services. A luxury boutique hotel, for instance, however small, cannot afford to risk flaws or low quality in its cleaning services, and could profit from an increased control on laundry operations.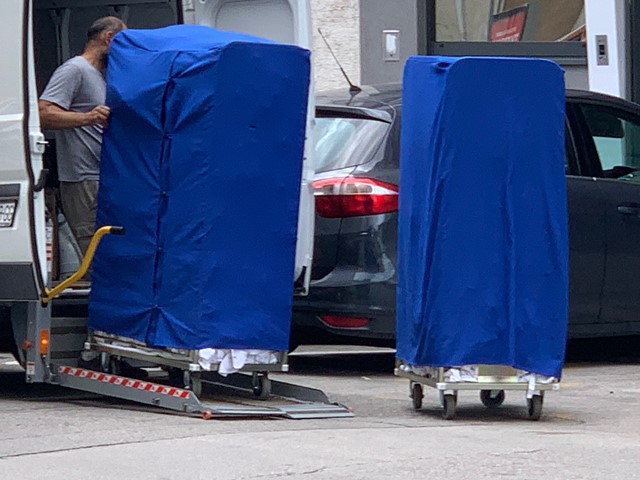 transport can pose risk for laundry contamination
Uneven trends in the need for laundry services
Outsourcing laundry services means having to negotiate on average quantities and turnaround time. If your business has hard to predict spikes in laundry activities (think about nursing homes during annual flu outbreak), an external supplier could be unable to maintain the needed performance of cleaning and delivering linen.
The issue of Sustainability
if your business gives importance to sustainability or your brand has eco-friendly values, internalizing your laundry can give you control over the environmental impact of your laundry operations; you can never be sure of the sustainability of a supplier, unless you have the chance of choosing a certified one (normally more expensive). By setting up your own laundry you can select the most sustainable appliances, like commercial washers that reduce the use of water or have automatic dosing to grant cleaning results with the less possible usage of chemicals.