Laundries are places that have a long tradition of hygienic laundry standards despite the current increased need for hygiene in everyday life. Whether it is self-service laundries where many people use the same appliance or in-house laundries in hotels where laundry and bedding of many guests are washed, they must always ensure that germs do not spread and infect their users through laundry. Below we bring you the top 3 ways to disinfect laundry.


THERMAL DISINFECTION
A variety of laundry-disinfecting technologies have been used in laundries for many years. The traditional and oldest method among them is sanitizing with high washing temperature, most often at 95 °C or 75 °C. It is mostly used for washing large quantities of the same type of laundry, such as bedding.
The advantage of thermal disinfection is that in 99.9% of cases it eliminates microbes, but it is not suitable for all types of laundry because it can damage it, such as sensitivity or coloured laundry. To achieve disinfection, it is necessary to heat the water to a high temperature and maintain it for a certain period of time. Therefore, such washing programs have long wash cycles and create high energy costs.
DISINFECTION WITH CHEMICALS
To reduce the need for long washing cycles at high temperatures and optimize the capacity of the launderette, owners began to use various chemicals in the form of additives to professional detergent. Depending on the needs, e.g. for hospital laundries, the doses of a certain chemical, the way of handling and storage conditions are prescribed, which requires additional engagement and education of employees.
OZONE DISINFECTION OF LAUNDRY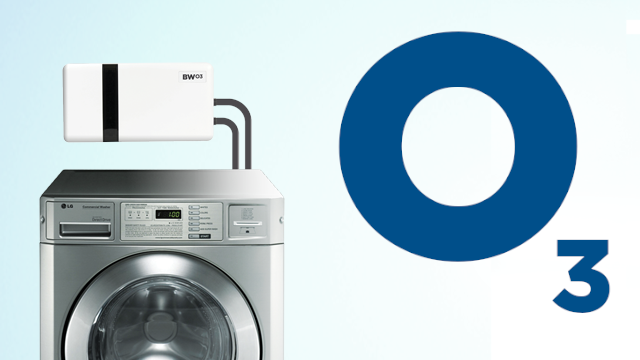 The latest among them is the use of ozone-enriched water in the laundry process. The technology itself is not new but has been adapted from the food industry where, in addition to disinfection, it has proven to be an excellent means of eliminating unpleasant odours.


Its main advantage is that it eliminates viruses and bacteria even at low washing temperatures. Specifically, with the process of oxidation, it completely eliminates microbes, which prevents the development of resistance. Therefore, it is used in laundries as a substitute for chemicals or high temperatures in the process of washing delicate laundry that doesn't respond well to heat or chemicals. This prolongs the life of the fabric, i.e., reduces its wear. It is created on the spot and dosed directly, thus facilitating its use.
Another advantage is multiple savings. Using an ozone generator reduces the need to use a high temperature program so wash cycle is shorter and consumes less electricity and water. In this way, more washing cycles can be washed and disinfected in one work shift.
Aside from energy and time, there are significant savings in detergent consumption. Specifically, ozone-enriched water has a medium cleaning power, so for laundry that only needs to be refreshed, you can use a special ozone program without the use of detergent and fabric softener and for heavier soiling it is necessary to add a smaller amount of detergent.
Although ozone removes odours, it also opens fabric weaving and reduces static electricity resulting in softer and fluffier bedding. As the softness of the laundry and the masking of the smell are the main reasons for the use of fabric softeners, the use of ozone eliminates their need and cost.
Due to its properties, ozone is an excellent substitute or supplement to traditional disinfection methods with the potential for significant savings and enhanced safety.
Each of the methods needs to be adapted to the conditions and processes prevailing in the laundry and you can use them separately or combine them to achieve the highest standards of hygiene and greater safety.


WHEN IN DOUBT, USE LG PROFESSIONAL DEVICES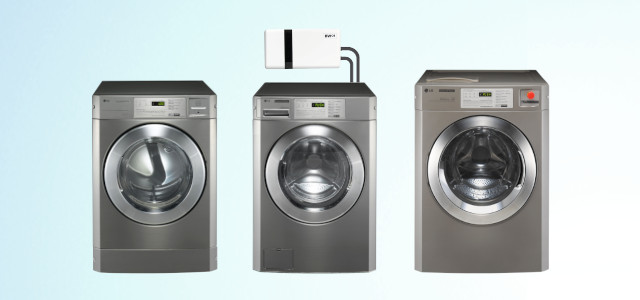 LG line-up
If you are unsure which method of washing and sanitizing to choose, use professional LG appliances and hygiene accessories as you can combine all three methods with them.
LG professional washing machines and dryers have hygiene programs (95 °C and 75 °C) and an antibacterial design with which you can maintain maximum cleanliness of the laundry, as well as the washing machine themselves.
For greater safety, but also significant operational cost savings, use the BWO3 ozone generator and increase the capacity of your laundry room.
Also, in our many years of work on the development of laundries, we got familiar with all business owner's needs. So beside optimal professional devices and accessories for you, we can also recommend you proven professional detergents and accessories.