Due to a specific way of doing business, camps are perceived as a safer form of accommodation in tourism during the pandemic. Most of this perception arises from the fact that most activities take place outdoors or in a small circle of people. These special conditions generate also challenges with laundry washing and drying, which we bring you below: 
GUEST PROFILE
Guests are looking for all the benefits of a modern way of life, which has partly moved into the digital sphere. They are used to contactless payment; various apps and they want to have access to everything around them with just one click. They also have all these expectations while doing their laundry.
Therefore, when you plan a laundrette in your camp, it is important to ensure that professional devices can be connected to various billing systems and provide easy payment in different currencies. LG professional devices can help you with that because you can connect them to both classic coin boxes (payment with coins or tokens) and contactless payment systems.
HYGIENE
With epidemiological recommendations for camps, the need for devices that can also ensure hygiene has increased. That is in line with the fact that the laundry room is one of the critical points because it has numerous users throughout the day. Also, viruses and bacteria can remain on the washed laundry and in the drum even after the usual wash cycle.
LG has developed special hygiene programs for professional washing machines and dryers and design to ensure complete hygiene. Also, exclusively for LG professional washing machines, an ozone generator has been developed. It raises hygiene to a completely new level, while eliminating all viruses and bacteria from laundry with the natural power of ozone.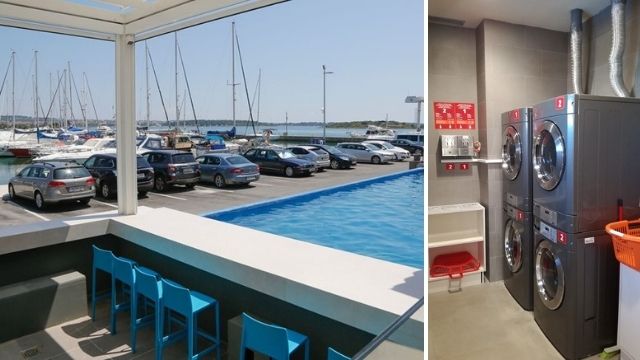 Marina ACI - Medulin
LIMITATIONS OF INFRASTRUCTURE
The third challenge of laundry planning is the limited possibilities of the existing infrastructure. The professional devices are planned to be placed in rooms whose original purpose was for some other activities. Sometimes there are no stable structures, so the laundrettes are created in modular or mobile facilities.
In such situations, the flexibility of LG professional devices reveals itself in the best way possible.
For starters, the devices are space adjustable. With a width of 68 cm, they pass through standard doors in every room without any problems. They also take up little space (less than 1m2) thanks to the possibility of installing in the "pillar".
In addition to space, energy source also creates a problem. LG professional devices have adapted to these requirements and can be easily connected to the existing single-phase network via a 220V connection. Also, the washing machines have a drain pump so they can be connected to an existing drain.
LAUNDRY INVESTMENT COSTS
Although laundry rooms in camps are often perceived as a cost, it can also be an additional source of income. Since guests stay in the camp for a longer period, they need to do their laundry, several times during their stay. Therefore, it is best that there is a self-service laundry inside the camp that will offer them quick washing and drying close to their accommodation. Since campers are guests of higher purchasing power, they are willing to pay for fast and quality service even at a higher price. This makes the return on investment in the laundry faster than for the other investments.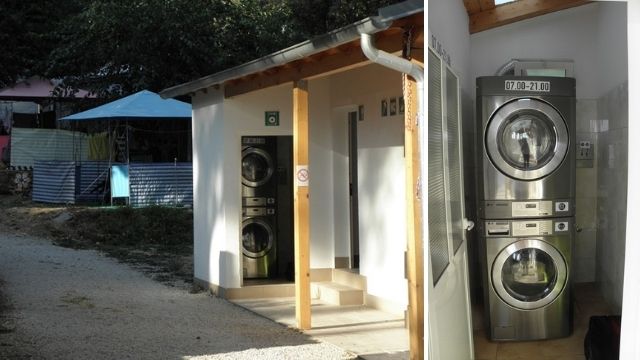 Camping Porton Biondi Rovinj
STAFF OCCUPANCY
Finally, any additional service in the camp requires additional engagement of the owner or a staff. It is necessary to check if everything works fine, eliminate all errors that occur, etc.
The new models of LG professional washing machines and dryers have WIFI Smart technology which can be used to monitor the status of the device via LG's web management interface and / or remotely diagnose problems and errors. In this way, camp managers or staff doesn't have to be constantly present or check the laundry room to see if all the devices are working properly. Now, they can receive error information on their computer.
If you want to avoid all mentioned concerns, choose LG professional devices that have been proven as a first choice in more than 50 camps in Croatia. They offer what you need under the most optimal conditions.