What is in-house laundry anyway?
In-house, literally, laundry in the house is a laundry which is located in your facility. The alternative to it is an external laundry, that is, a facility that washes dries and irons your laundry for you.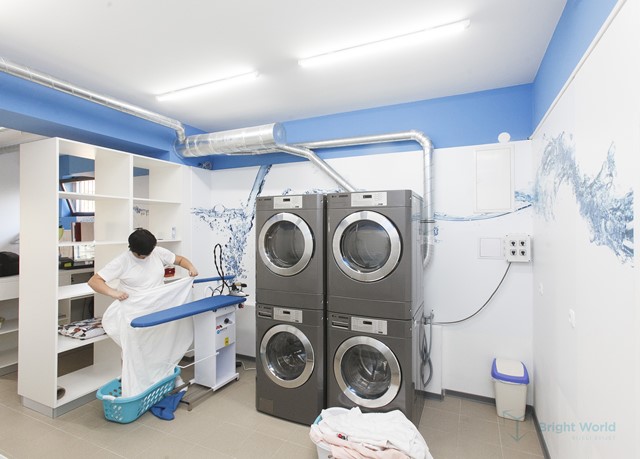 Why in-house?
External laundry can certainly do a good job if your business activities are closely connected to laundry washing and drying. We are talking about businesses like hotels, hostels, marines, camps, restaurants, villas, and others, whose main activities aren't laundry washing and drying, but who do require those services to properly maintain their business activities. When it comes to the advantages over the external laundry, control is the keyword. Entrusting your staff with the tasks of washing, drying, and ironing instead of the external laundry's staff, you remove risk factors detrimental to your business. 
Where can in-house laundry be applied?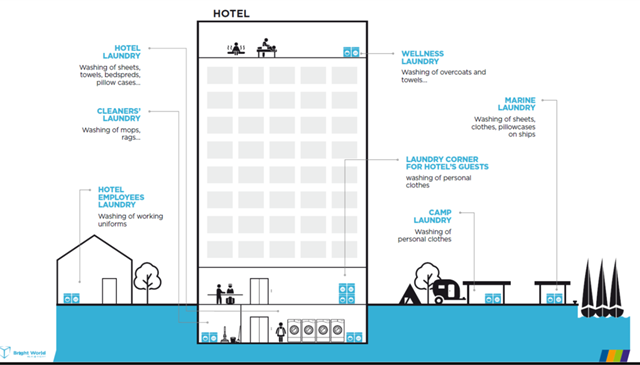 In-house laundry can be used in various facilities. We shall name a few of those:
-        Wellness laundry - Wellness facilities must wash laundry like towels and robes. You don't need much space for this type of laundry - all that's important is to have electricity, water and air drainage, and the advantages for you all numerous - lower monthly cost, always accessible towels, the better quality of the washed laundry, bigger washing capacity in one shift, and so on. 
-        Camp laundry - In-house laundry is here for the camp owners to ensure the best quality service for their guests. The guests get laundry that is washed with high quality, and you get an additional income and a fast return on investment. 
-        Marine laundry - Many nautical harbors are aware that they need to additionally improve on their services, which is why more and more of them are opening laundrettes. Fast cycles save time for your guests and make laundry accessible immediately, and you have an additional source of income. Plus, you can have it as soon as possible, because machines are installed very simply and in a fast manner. 
-       Laundry for employees - Employees whose daily tasks include working uniforms have to have clean clothes at their disposal, as well as the possibility of quality washing, drying ironing. This is why laundries for employees are a natural part of employees' facilities. 
-       Laundry for facility maintenance - This type of laundry is a necessary part of every facility because every space needs to be cleaned and hygienically maintained. It's needed because items like rags, mops, working uniforms, and others need to be washed separately to avoid cross-contamination. 
-       Laundry corner for hotel guests - Guests need clean laundry while staying at your hotel. By opening a laundry corner for them, you are offering an additional service, and you are keeping with the trends on the market. Your guests in turn get clean clothes, which means that can pack their travel suitcases more lightly. 
Let's not forget about hygiene
In today's world of the pandemic, taking care of hygiene is a necessity, especially when it comes to other people. You as an owner of a business have the power and the authority to protect others from harm, and you should use it. In-house washing, drying, and ironing gives you exactly that opportunity - the chance to offer your clients the best possible hygienic experience. It's up to you to choose the best professional appliances, the best detergents, and the best staff.
And it's up to us to help you in that, so reach out!