TOTAL CARE Complete care for laundry hygiene
Bright world offers comprehensive solutions with regards to professional care for laundry hygiene, including the most suitable equipment and complete support for businesses with additional tailor-made education.
Considering the COVID-19 virus situation, we are paying special attention to education about hygienic processes that prevent the spreading of the disease.
Here you can find educational material that will help you feel like a true professional, and which will make you become one.
Mini guide to hygienic laundry practices

In this small but informative guide, you will find information about the whole process of hygienic laundry care; from how to correctly store and sort laundry from the hygienic point of view to detailing hygienic measures with regards to the laundry transport.

The best laundry washing practice

The infographic attached here illustrates all steps of the laundry washing process in health institutions, which will help make laundry hygienically optimal.
To download the guide and the infographic, please fill your details
Webinars
Hygienic practice of laundry washing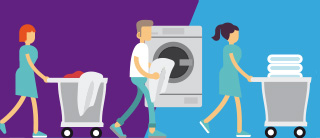 We hold regular webinars that will help you learn about the highest standard you can set regarding the hygienic conditions in your laundrette.
For all information about the dates and accessibility of the webinars contact us via e-mail info@bijelisvijet.hr.
Let's chat
Contact us today to discuss your laundry business needs.
Talk to an expert
Zahvaljujemo vam na skidanju ebooka Mali vodič za higijenske prakse!
Vaš ebook bi se trebao skinuti automatski u roku od 15 sekundi. Ako se dogodila greška, molimo Vas da nam pošaljete poruku putem obrasca za kontakt.
Thank you for downloading!
Your ebook should download automatically within 15 seconds. If an error has occurred, please send us a message via the contact form.